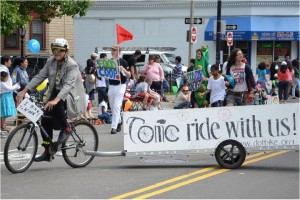 At least for now. With two roads that had Sharrows, Adams St from Fields Corner to Meeting House Hill and Ashmont Street from Dot Ave to Neponset fresh with pavement and NO SHARROWS. Why the bike paint contract is so disconnected to the paving and road line contracts makes NO SENSE and shows the second class approach of Boston's Road Planners…
I can hear them now, "Oh yeah we need to add that pain in the ass bike stuff. Boy will it be funny when they hit the new turn lanes." That is certainly what it feels like as a daily rider in Dorchester. It's bad enough to deal with the lack of respect (which is diminishing btw) from drivers than from transportation planners who should know better.
Throw into that plans to add Sharrows on Geneva Avenue that are now slated for April even though it was paved in August (that's 7 months of no direction) and it's a wonder we continue to moan and moan and moan and moan about being dissed and overlooked when it comes to Dot's inclusion in bike infrastructure additions.
While we're tossing though we'll add the other parts of Dorchester that got pavement but NO BIKE ACCOMMODATION. Gallivan Blvd. Washington Street from Codman Sq to 4 Corners are the two I travel on that immediately come to mind. Last year we saw Mass Ave paved from Everett Square to the RR Bridge. We got two turn lanes, no bike lanes on a road plenty wide enough for plenty of lanes.
The Twitter #comeridewithus campaign hasn't generated any direct response from Mayor Walsh outside of him waving at me at the Codman Square Men of Boston Cook event. So we're thinking he's aware but doesn't care? Or is he hoping that the story gets out and we'll be happy? What story? April for something paved in August? Great story. NOT.
C'mon Marty you're doing so well in so many areas, don't let us all have to hear the "I voted for Connolly" from the folks who are getting the infrastructure while the folks who did vote for you get zippo. It sucks and I'm tired of it.
This got added later: Thoughts while counting bikes in Codman Square. One woman an hour. One helmeted rider every 20 minutes. The other 74 riders all rode on the sidewalk and none wore helmets. 210 vehicles ran the light or turned right on red where it is clearly a no turn. That includes T Vehicle 2226 The Ride, buses #22125, 2715, 2098, school buses WB072, Hs214, B308, HS057 and MS125 as well as the Safety Supervisor for BPS in MB765. I didn't even count the folks not stopping at all coming out of Norfolk or running any light down in that part of the Square. Nor did I count the folks who went straight in the right turn only lane. Yeah it's all those scofflaw cyclists that make it suck.